Your membership support is one way you can helps us meet our mission.  If you share our goals, we hope you will join as a member and become involved.  Members can make nominations to fill vacancies our Board of Directors.  As a member, you also elect that board.
If you want to become further involved, you may want to consider nomination for a seat on the board.
Click below to submit a membership application.  The following membership options are available: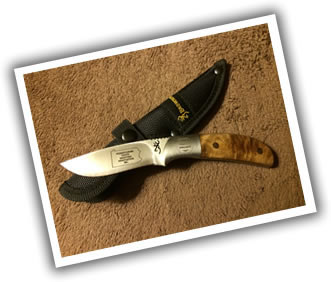 As an added bonus, with your purchase of a 3 year or higher membership you will receive this Browning Fixed Blade knife.  The knife is engraved with the Midway USA Foundation logo and our logo.  Whether you plan to use the knife or display it, this is a limited time promotional item, so don't wait too long!
Membership dues are not tax deductible.